EASTERN FLORIDA STATE COLLEGE – STUDENT HOUSING FEASIBILITY ANALYSIS
Melbourne, Florida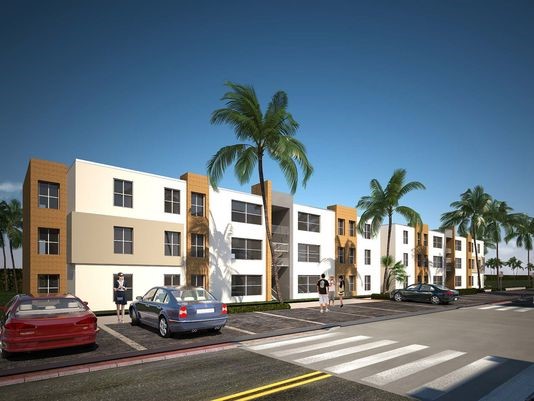 Image: Eastern Florida State College
WA provided real estate advisory services to assist Eastern Florida State College in analyzing the feasibility of its first on-campus student residential facility.
WA's scope of work consisted of detailed financial modeling to understand how the project scale may produce economies of scale, both on the capital and operational sides, to lower the rental rate structure required for feasibility.
Market demand was determined based on student feedback generated in focus groups and an electronic survey. WA also reviewed the private, off-campus market offerings and residential programs at other community colleges in Florida.
WA concluded that the first phase of the campus residential project should not exceed 300 beds. Four-bedroom / two-bathroom unit was recommended as the core of the program because the unit offered the largest value at an acceptable price point. The project is currently under development with a CM-at-Risk delivery method and is projected to open in the fall of 2020.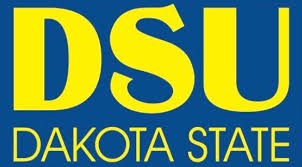 DAKOTA STATE UNIVERSITY – STUDENT HOUSING MASTER PLAN & PUBLIC-PRIVATE PARTNERSHIP (P3) TRANSACTION ANALYSIS
Madison, South Dakota
WA provided advisory services to Dakota State University in the process of master planning for the redevelopment of on-campus student housing. Due to growing enrollment and shortages of private-sector housing in the community, DSU wanted to address the residential deficiencies with respect to the quantity of beds and quality of the existing stock.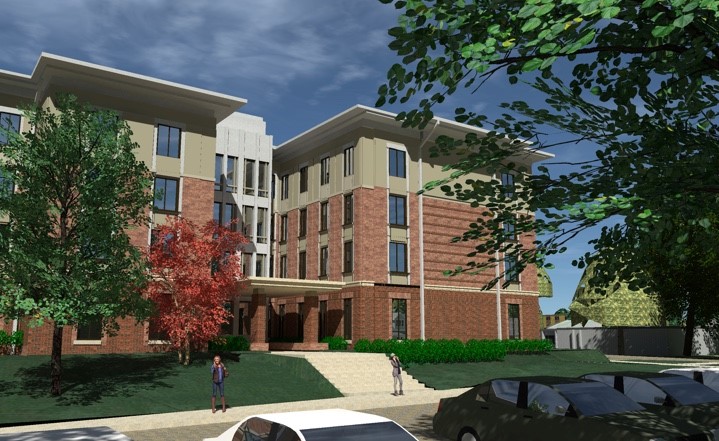 Image by KWK Architects
WA vetted various transaction types as DSU expressed interest in pursuing a public-private partnership. The analysis proved that an on-balance sheet transaction would be optimal in order to achieve the desired quality of construction and price points. Other deal structures analyzed included an equity model and a foundation approach.
WA also provided market analysis to assess student demand for on-campus living and reconcile the demand with supply, both on and off campus. I collaboration with KWK Architects, WA proposed improvements to existing residence halls and an addition of approximately 200 new beds. Once approved by the Board of Regents, the first phase of the master plan (a 200-bed addition) will be ready for the fall 2020 occupancy.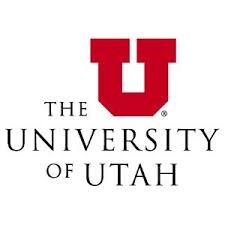 UNIVERSITY OF UTAH – SOUTH CAMPUS HOUSING/DINING ADVISORY SERVICES
Salt Lake City, Utah
WA provided advisory services to assist the University of Utah in the development of a new undergraduate complex consisting of approximately 950 beds and a student cafeteria. Due to rapidly growing freshman enrollment, the University decided to construct a new living-learning facility to accommodate lower-classman demand for on-campus housing.
WA's scope of work consisted of initial programming of both the housing and the dining components. Once the program was established, based on the market demand, WA developed a capital budget in coordination with a local contractor. The financial modeling was structured as value-for-money analysis to determine the best transaction structure for the project from the cash flow and risk transfer perspectives.
The University, ultimately, decided on an on-balance sheet transaction and proceeded with schematic design. In that phase of the project, WA provided continuing financial modeling for the projects as well as for the entire existing housing system to understand the impact of new beds on the financial health of the auxiliary operations. The project is scheduled to open in 2020.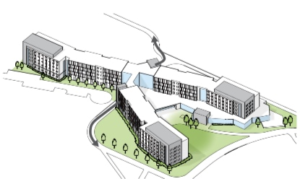 Images by MHTN Architects / TreanorHL


METROPOLITAN COMMUNITY COLLEGE, OMAHA – AUXILIARY SERVICES REVIEW
Omaha, Nebraska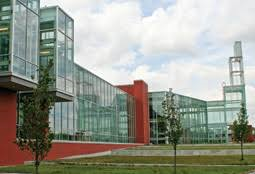 WA was engaged by MCC to provide a review of the auxiliary services on all its campuses and centers. The scope of the review included an assessment of current offerings in food service, housing, childcare, healthcare, transportation, and technology versus the student demand. The issues of food and housing insecurity were also analyzed in the context of the MCC's student demographic profile.
WA's scope of work included strategic review with MCC's key administrators, student focus groups, and a quantitative survey. The findings and recommendations were presented to MCC's Board of Governors in December of 2017 for further consideration.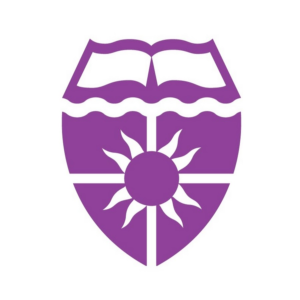 UNIVERSITY OF SAINT THOMAS – STUDENT HOUSING MASTER PLAN
St. Paul, Minnesota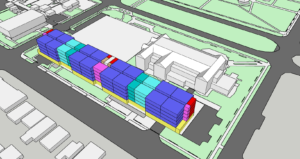 Image by Mackey Mitchell Architects
WA provided planning and advisory services to University of Saint Thomas as part of master planning for student housing on the St. Paul, Minnesota campus. Upon completion of a campus-wide master plan, the University hired a team of WA and Mackey Mitchell Architects to develop a detailed strategy for its residence halls.
WA's scope of work consisted of strategic goal development, review of existing facilities and operations, peer benchmarking, student focus groups, student survey, and an on-campus housing demand assessment. Physical planning included development of renovation concepts and site capacity testing for potential new projects.
The master plan defined a number of projects, both renovation and new construction, to address the main objectives: adding more sophomore housing on campus, improving the existing freshmen housing stock, and, potentially, capturing more junior and seniors. The master plan recommendations were presented to the Board of Trustees in May of 2018.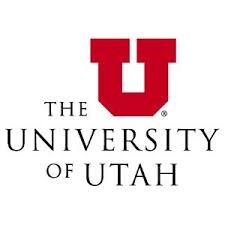 UNIVERSITY OF UTAH – WEST FINE ARTS BUILDING – FINANCIAL MODELING
Salt Lake City, Utah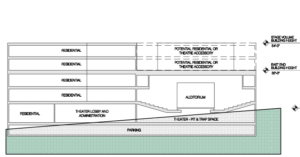 Image by FFKR Architects
WA was retained by the University of Utah to develop a financial model for a contemplated West Fine Arts facility consisting of a performance theater space, parking, and housing. WA's scope of work included review of design concepts, development of revenue and cost assumptions based on market data, and preparation of multiple pro forma cash flow scenarios.
The cash flow scenarios address various programmatic options for the building based on the theater size, quantity of parking spaces, and the size of the residential program. The pro forma reconciled the net operating income with the capital cost expressed as a combination of fundraising proceeds and debt service. The project is currently under evaluation by the University's administration.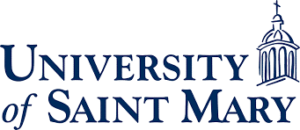 UNIVERSITY OF SAINT MARY – PRELIMINARY HOUSING ASSESSMENT
Leavenworth, Kansas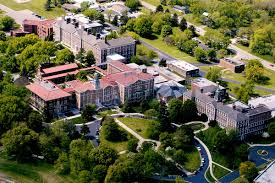 WA collaborated with TreanorHL on a preliminary housing assessment for the University of Saint Mary. The University desired to improve its existing housing and considered construction of a new apartment complex for upper-division and graduate students. The scope of work included review of existing facilities, review of current housing operations including the operating budget, strategic visioning session with the senior University administration, and student focus groups. A project concept was developed in the context of the student demographic profile and enrollment projections. The final step of the analysis was a preliminary financial model that tested the project's feasibility in relationship to various construction quality levels and the cost of capital. Study findings were presented to the Board of Trustees in February of 2018 for further consideration.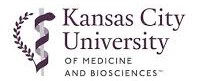 KANSAS CITY UNIVERSITY OF MEDICINE AND BIOSCIENCES – JOPLIN CAMPUS – AUXILIARY SERVICES REVIEW AND HOUSING DEMAND ANALYSIS
Kansas City, Missouri / Joplin, Missouri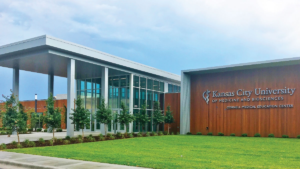 KCU engaged WA to review its auxiliary services on a new campus in Joplin, MO. At the end of the first year of operations, the University wanted to assess student satisfaction with the new campus, define potential improvements, and estimate demand for student housing.
WA's scope of work included strategic goal definition, demographic review, student focus groups, an electronic survey, housing demand calculations, Joplin housing market review, and financial modeling. The financial model was structured as value-for-money analysis to test various transaction structures, an on-balance-sheet approach versus public-private partnerships.
The analysis results and recommendations with respect to student fitness / recreation, food service, study space and housing were presented in April of 2018. WA is currently embarking on the second phase of the assignment to address student housing in more detail.